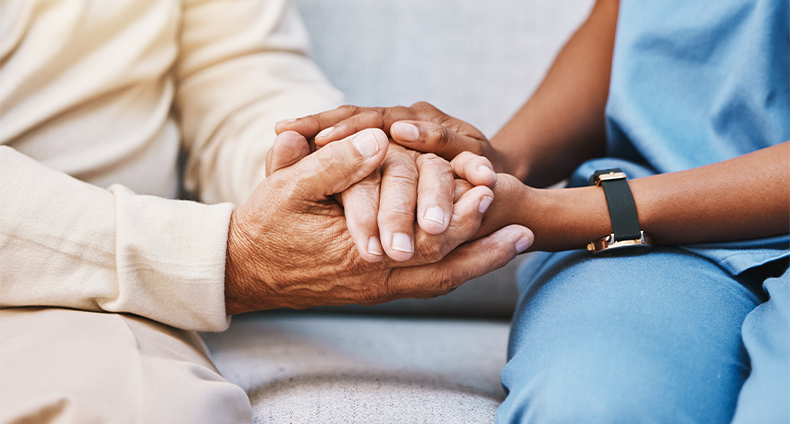 NO RECOVERY NO FEE

Free Case Review
New Orleans Nursing Home Abuse Lawyers Handling Malnutrition & Dehydration Claims
Caring representation when nursing homes in Louisiana fail to properly provide food and drink for their residents
Every resident in every New Orleans nursing home needs a nutritious diet of food and liquids. Malnutrition means that a resident is not getting the correct balance of nutrients he/she needs to function. Malnutrition generally includes more than just the failure to get enough calories. The calories need to include the proper amount of proteins, vitamins, minerals, and other nutrients.
Dehydration means that a resident is losing more fluid than he/she consumes. The body needs a proper amount of water and fluids to function. Older adults generally have a lower level of water volume and may be taking medications that increase the possibility of dehydration. Infections, lung, and bladder disorders may contribute to dehydration.
At Garcia & Artigliere, our Louisiana nursing home malnutrition and dehydration attorneys have 150+ years of combined experience fighting for the elderly. Our team works with physicians and nutritionists who understand the level and types of foods and beverages residents should be consuming on a daily basis. We hold nursing homes responsible for neglect (failing to monitor the food and liquid intake of residents) or for abuse (purposely depriving residents of enough food or liquid).
NO RECOVERY NO FEE

Free Case Review
What are the dangers of dehydration?
The elderly are more at risk for dehydration because they tend to have bladder problems, drink less, and are less sensitive to thirst. Blood tests are used to confirm a resident is dehydrated.
The Mayo Clinic states that dehydration can cause severe complications such as:
Heat injuries. Without enough liquids, a resident can develop heat cramps, heat exhaustion, or possibly life-endangering heatstroke.
Urinary and kidney disorders. Prolonged dehydration can lead to urinary tract infections, kidney stones, and failure of the kidneys.
A lack of electrolytes which include sodium and potassium can cause muscle contractions and loss of consciousness.
Low blood volume (hypovolemic shock). This very dangerous condition occurs when low blood pressure causes a blood pressure drop and a drop in the level of oxygen in the body.
New Orleans nursing home residents with dementia or Alzheimer's may not be aware they need to drink fluids. Nursing home staff need to ensure each resident is drinking enough liquids. Residents who have diarrhea or any type of illness have a higher risk of being dehydrated
What are the symptoms that a New Orleans nursing home resident is dehydrated?
Some of the symptoms of dehydration are:
Thirst
Dry skin
Dry mouth
Reduced amount of urine output
Problems sweating
Low blood pressure
Fast breathing
Confusion
Fatigue
In one notable example case, Stephen M. Garcia obtained a $1.5 million verdict for the family of a woman who died from infected and necrotic pressure sores after being admitted for malnutrition, diarrhea, and vomiting.
What are the dangers of malnutrition?
New Orleans nursing homes may be considered malnourished if they are underweight/undernourished, or overweight/obese.  Generally, malnutrition refers to undernourishment.
Residents who are undernourished may have the following health disorders:
Low weight which can cause anemia, osteoporosis, and fatigue
A weakened immune system which makes it harder to fight infections and diseases
A higher risk of falling
A higher risk of diabetes, heart disorders, and cancer
Malnutrition can also cause scurvy, joint problems, bone disorders, behavioral problems, and other health problems. Malnutrition can be deadly.
What are the symptoms that a New Orleans nursing home resident is malnourished?
The symptoms of malnutrition include:
Weight loss or weight gain
Fatigue and weakness
Difficulty swallowing
Loss of fat and muscle
Bones that are visible
Canker sores
Infections
Irritability
Cognitive difficulties
Dry skin
Low blood pressure
Malnutrition can also cause problems with chewing and dental problems.
How do your New Orleans lawyers prove neglect or abuse?
The New Orleans lawyers at Garcia & Artigliere understand when mistakes are considered "neglect." Our lawyers review the federal and Louisiana laws that regulate nursing homes to determine if the nursing home breached its duty of care to a resident. We work with nursing home professionals who understand what policies and procedures long-term care facilities should have implemented to ensure their residents have a nutritious diet.
Nursing care becomes neglectful or abusive when the nursing home:
Fails to prepare healthy meals
Fails to ensure the resident eats the food and liquids that are served
Food and dining room are unsanitary and unappetizing
Serves food and drink that tastes awful or lacks any taste
Fails to examine if other health problems are preventing the resident from eating or drinking - such as bedsores, swallowing difficulties, bladder and bowel disorders, or physical or emotional pain.
Nursing homes should never abuse their residents by denying them the food and drink they need. The elderly should be encouraged to eat with other residents. Extra attention should be given to New Orleans nursing home residents who have cognitive impairments.
Other signs of malnutrition or dehydration neglect that our New Orleans nursing home lawyers review include examining:
The staffing levels of the nursing home
Whether there are individual nutrition plans for each resident
If a resident is being abused
If the home is monitoring the health status of each resident, including looking for the signs of malnutrition or dehydration
If the nursing home is helping the resident keep physically and emotionally healthy
How much is a Louisiana nursing home resident's claim for dehydration or malnutrition worth?
At Garcia & Artigliere, our New Orleans nursing home malnutrition and dehydration lawyers have helped thousands of clients, mostly elderly clients and their families, obtain strong recoveries – many for six and seven figures. We are skilled at showing neglect. We work with doctors who are experienced at testifying about when malnutrition or dehydration occurs and the consequences of those disorders.
We demand compensation for your loved one's:
Current and future medical costs including ER care and hospital care, surgeries, rehabilitative care, psychological counseling, medications, and other health care expenses
Daily physical pain and suffering
Loss of quality of life
If your loved one died due to malnutrition or dehydration, we file wrongful death actions for all the damages Louisiana law permits – funeral and burial expenses; loss of financial support; and the loss of companionship, love, and guidance your loved one would have provided.
Do you have a nursing home abuse or neglect lawyer near me?
Garcia & Artigliere represents New Orleans nursing home residents and families who are not properly fed and hydrated. We've helped many other people like you. We'll calmly and clearly guide you through this difficult time.
Speak with the experienced Louisiana nursing home dehydration and malnutrition lawyers at Garcia & Artigliere today
There's no excuse for causing a nursing home resident in New Orleans to suffer malnutrition or dehydration. It should be routine for the nursing home staff to serve nutritious food and ensure that each resident is eating and drinking the food and liquids necessary for a healthy life.
At Garcia & Artigliere, our New Orleans nursing home dehydration and malnutrition attorneys have earned the respect and praise of former clients and the legal community for our impressive record of strong recoveries. We maintain additional offices in Long Beach, Los Angeles, New Orleans and Phoenix, and represent seniors across the United States. Our compensation depends directly on the success of your claim. Call or contact us today.
Se Habla Español.
Additional services for victims of nursing home abuse in New Orleans