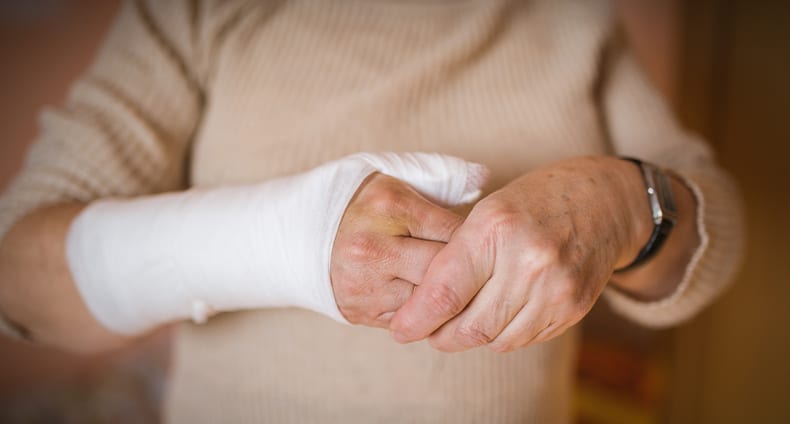 NO RECOVERY NO FEE

Free Case Review
New Orleans Nursing Home Neglect Lawyers Handling Broken Bones Claims
Strong advocacy when Louisiana nursing home residents suffer fractures
Seniors have a double risk of severe broken bone injuries. First, they have a high risk of falling due to falling, osteoporosis, vision problems, and other risk factors. Second, when a bone does break, the bone needs more time to heal. The bones of the elderly are also more brittle, which makes fractures more common and more complicated. Another serious risk of broken bones, sadly, is abuse. Many nursing home residents are physically assaulted or restrained by the staff, visitors, contractors, and others.
Nursing homes in New Orleans need to implement fall prevention strategies. The homes should understand each resident's health disorders. If a resident does break his/her bones, the nursing home should arrange for safe immediate medical transport to the nearest hospital. At Garcia & Artigliere, our elder abuse and neglect lawyers have been fighting since 1993 to ensure nursing homes protect their residents from falls and abuse that can cause broken bones. In one illustrative case, founding partner Stephen M. Garcia helped obtain $1.3 million for a resident of a nursing home whose hip broke.
NO RECOVERY NO FEE

Free Case Review
How often do seniors break their bones?
The US Centers for Disease Control and Prevention (CDC) reports that 32,000 seniors die from 36 million falls each year. Yearly, three million seniors need emergency medical care for falls. Falls can cause broken bones, head trauma, and other injuries. The most common type of broken bone among seniors is the hip. Most of the seniors who break their hip are female.
Why do residents of New Orleans nursing homes suffer fractures?
Nursing homes in New Orleans should know why their residents are likely to fall and take preventive measures. Common reasons for falling in a nursing home include:
Mobility difficulties. Residents who already use canes and walkers are likely to fall and break a bone. Residents who have physical ailments that affect their ability to walk and keep their balance are also likely to fail.
The Cleveland Clinic states that this disorder weakens the bones increasing the risk of a fracture. The hips, spine, and wrists are the bones most likely to break due to osteoporosis.
Weak muscles. Weak leg muscles increase the risk of falling and poor balance.
Some medications can cause tiredness, dizziness, or confusion, which increases the risk of a fall. Nursing homes in New Orleans should know the correct dosage and medications each resident needs. The staff should monitor the patient after he/she takes the medications. Changes in prescriptions or dosage increase the risk of a fall.
Cluttered floors and floors with debris. Nursing homes should routinely inspect the floors including bathroom floors to remove any potential dangers such as objects on the floor, slippery falls, and narrow passageways for wheelchairs. Grab bars and sturdy railings protect residents from falling and breaking their bones. The lighting should also be checked.
The National Institutes of Health recommends that nursing homes also focus on the following factors that contribute to falls and broken bones:
Various diseases, such as heart disease and diabetes
Vision and hearing problems
Bowel and bladder disorders, which may cause a resident to fall while running to the bathroom
Cognitive impairments
Foot and heel disorders
Shoes without good traction
Nursing homes in New Orleans need to take steps to prevent the physical abuse of the elderly. Some of these steps include conducting criminal background checks and reports of elderly care misconduct. Hitting, slapping, pushing, and any physical force can cause a senior to break his/her bones. Physical restraints can also cause broken arms and hands.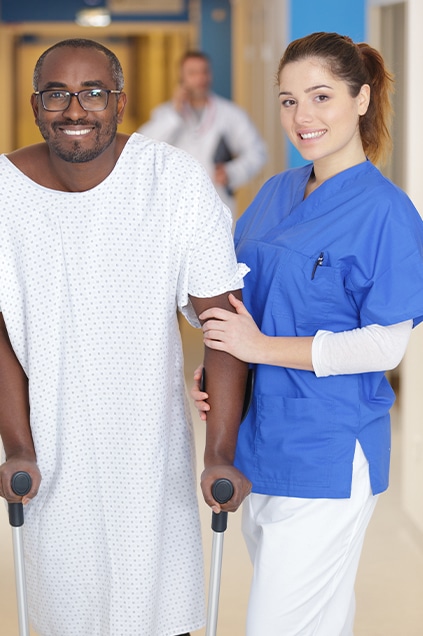 How do bones break?
According to Johns Hopkins Medicine, there are many different types of broken bones. Fractures are generally classified as open (compound) or closed (simple). Open fractures involve bones that poke through the skin. Closed fractures involve broken bones that don't break through the skin.
Fracture types include:
"This is an incomplete fracture. A portion of the bone is broken, causing the other side to bend.
The break is in a straight line across the bone.
The break spirals around the bone; common in a twisting injury.
The break is diagonal across the bone
The bone is crushed. This causes the broken bone to be wider or flatter in appearance.
The bone has broken into three or more pieces and fragments are present at the fracture site.
The same bone is fractured in two places, so there is a 'floating' piece of bone."
One special difficulty that Louisiana nursing homes need to manage involves residents who suffer broken bones while having cognitive impairments. Residents with dementia or Alzheimer's cannot communicate how the break occurred and how they feel.
How are broken bones treated in New Orleans?
The specific treatments vary depending on the bone break location, the kind of break, and the severity of the break.
The treatments generally include:
Cast immobilization. This common treatment uses a plaster or fiberglass cast.
External fixation. This surgical treatment inserts metal screws and pins in the bone. The metal is then connected to a metal bar on the exterior of the skin to hold the pieces of the bone together during the healing process.
Open reduction and internal fixation. This surgical treatment repositions pieces of bone and then uses screws, pins, and plates to bind everything together.
Other possible bone treatments include bone grafts, traction, and joint replacement.
What complications can develop from bone breaks?
Residents of New Orleans nursing homes who break their bones may develop the following complications: nerve and muscle damage, infections such as sepsis, ligament and tendon damage, and the inability of the parts of the broken bone to line up correctly or grow together properly.
How does your firm fight for broken bone victims in Louisiana?
At Garcia & Artigliere, our New Orleans nursing home neglect lawyers work to show what steps that facility, administrators, and staff should have taken to prevent the break from occurring and to properly treat the break. Examples of broken bone neglect include:
Not properly assessing the fall risks for all residents of the facility
Not properly assessing the fall risks for each individual resident
Not preparing and implementing fall prevention strategies
Failing to run background checks on employees who may physically abuse a resident
Failing to monitor the people who visit or care for each resident
Not timely arranging for emergency medical transport to the nearest ER in the event of a fall or physical abuse
Not reviewing each resident's medications for any fall risk factors
Being understaffed
Not making proper repairs
Nor removing obstacles and debris
Failing to assist residents with mobility difficulties
Residents should not be confined by physical restraints without a specific medical reason.
What compensation can I seek for a broken bone?
At Garcia & Artigliere, our New Orleans nursing home broken bone lawyers understand that for most residents, a broken bone is one more ailment that the resident must cope with. Our attorneys work with orthopedists, pain management physicians, and other doctors to fully understand what care the resident needs and the quality of life the resident can expect while the bone heals, if it heals.
We seek compensation for all of the resident's current and future:
Medical expenses
Physical pain
Emotional suffering
Loss of body function
Any financial damages
If the resident's bone broke due to physical abuse, we normally seek punitive damages.
Our lawyers also file wrongful death actions if a family member died due to broken bone complications.
Do you have a nursing home abuse lawyer near me?
Garcia & Artigliere represents nursing New Orleans nursing home residents in New Orleans and across America nationwide who have suffered a broken bone injury or assault. We'll calmly and clearly guide you through the claims process.
Contact us today. Speak with our Louisiana nursing home lawyers now to assert your rights if a resident's bone fractured
Nursing homes in New Orleans must implement fall prevention and abuse prevention strategies. If a resident's bone breaks, the nursing home should arrange for immediate medical care and consult with the resident's physician. At Garcia & Artigliere, our New Orleans nursing home broken bone attorneys have 150+ years of combined experience. We've obtained $3 billion for our clients nationwide. Call us or contact us now to schedule a free case evaluation. We maintain additional offices in Long Beach, Los Angeles, New Orleans and Phoenix, and represent seniors across the United States. We represent nursing home neglect cases on a contingency fee basis.
Se Habla Español.
Additional services for victims of nursing home abuse in New Orleans