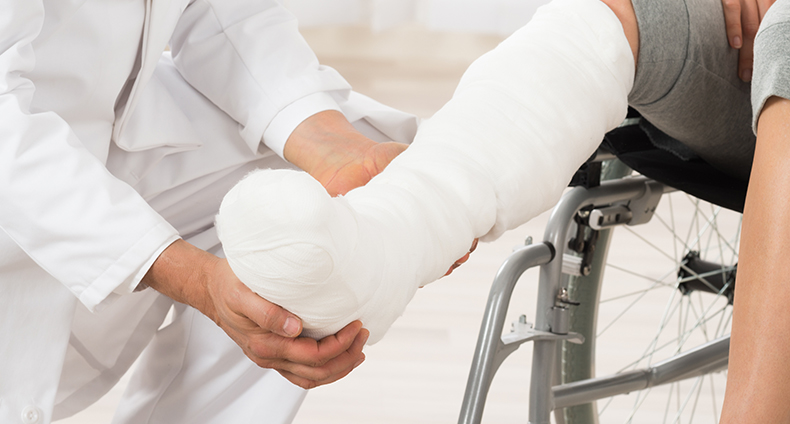 NO RECOVERY NO FEE

Free Case Review
Nursing Home Abuse Lawyers Handling Broken Bone Claims
Respected representation for nursing home residents who suffer fractures
Most nursing home residents are at risk of falling and breaking a hip, a leg, or another part of their body. When bone fractures happen, the consequences can be quite crushing. Many nursing home residents already live with some aches and pains of old age which means any additional injuries only multiply their pain. Broken bones in seniors take a long time to heal. Many broken bones don't fully heal which means the nursing home residents live with chronic pain.
Most fractures due to falls and other causes are preventable. Fractures due to physical abuse are unconscionable. Nursing homes should be held accountable when their neglect causes you or someone you love physical harm. At Garcia & Artigliere, our elder abuse lawyers have been fighting for seniors in nursing homes for 30 years. We're skilled at showing nursing home neglect or abuse caused your broken bones. We work with orthopedists and other healthcare professionals to show the type of fracture you have, your pain and suffering, the daily difficulties of living with the fracture, the treatments you need, and the cost of the medical care.
NO RECOVERY NO FEE

Free Case Review
How common are broken bones in nursing homes?
The US Centers for Disease Control and Prevention (CDC) estimates that:
Nearly 36 million seniors (in nursing homes and living on their own) in America fall each year.

More than 32,000 of these falls cause deaths.
Emergency departments treat about 3 million seniors every year.

One out of every five falls causes a broken bone, a head injury, or another type of injury.
Hip fractures are the most common and serious type of fracture among the elderly. At least 300,000 seniors are hospitalized for hip fractures yearly and 95 percent of hip fractures occur because of a fall. Women account for 3/4ths of all hip fractures.
We've worked on lawsuits which led to more than $3 billion in recoveries for folks across America. Elder abuse attorney Stephen M. Garcia obtained a judgment of more than $1.3 million on behalf of a nursing home resident who suffered a fractured hip (and other injuries) when she had already been admitted for a broken hip.
Why are the elderly more susceptible to broken bones?
Some of the reasons nursing home residents are more prone to broken bones than others are:
Osteoporosis.  Osteoporosis is a disease that weakens bones which increases the risk of bone fractures. The elderly are more prone to osteoporosis than younger people. Seniors with osteoporosis have less bone mass and strength making the bones more fragile. The most common fractures due to osteoporosis are hip, wrist, and spine fractures.
Mobility issues. Many seniors are susceptible to falls that cause broken bones because they already have difficulty walking. Many nursing home residents use wheelchairs, walkers, and canes.
Muscle weakness. Weak leg muscles can cause balance and stability problems that increase the odds of a fall.
Medications. Some medications such as sedatives can cause dizziness and affect a senior's balance. The few days after a new medication, a change in medication, or a change in dosage are especially dangerous.
Nursing home hazards. Nursing home residents may fall due to wet or slippery floors, objects on the floor, broken tiles, loose rugs, improper bed heights, loose railings, and poor lighting.
The National Institutes of Health adds the other common causes of falls in nursing homes:
Poor eyesight, hearing, and reflexes.
Diabetes, heart disease, and other disorders that affect balance
Incontinence and other bowel and bladder conditions that rush a resident to the bathroom
Cognitive impairment
Foot and heel problems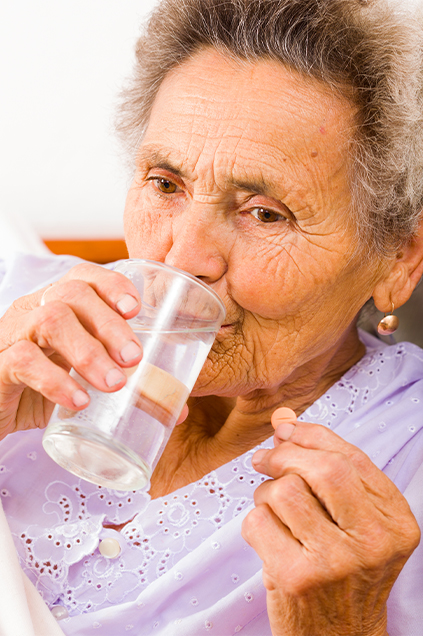 What types of fractures do nursing home residents suffer?
The human body has 206 bones. Any one of these bones can break. Nursing homes should immediately work with emergency departments, the resident's physicians, and their own physicians to ensure the resident receives prompt medical care.
Elderly residents in nursing home can suffer:
Displaced fractures Compression fractures
Stress fractures (hairline fractures)
Traumatic fractures
Nursing home residents are most at risk for fractures of the hip, skull, face, ankle, arm, pelvis, thigh, and vertebrae.
Family and friends should look for some of the signs of nursing home abuse that may cause broken bones. Some of these signs include an unwillingness to talk about the injury, indications that the bones aren't healing as expected, and multiple broken bones.
What are the treatments for broken bones?
The treatments that nursing home resident need for broken bones depends on the type of break, the location of the break, the severity of the break, and other factors. Common treatments include:
Immobilizing the broken bone with a splint or a cast
A closed reduction procedure to realign the bones
Arthroplasty – inserting an artificial joint – such as for an elbow, knee, or shoulder
Bone grafts
Different types of bone fracture surgeries may involve rods, plates, screws, wires, pins, braces, and brackets. Physical therapy is often essential to help seniors adjust to their broken bones after any treatments.
The amount of time it takes for the bone to heal properly is usually much longer for seniors than for younger adults and children. Your doctor may prescribe different medications to manage the pain.
What complications can occur when nursing home residents break a bone?
Some of the possible complications that may occur when a nursing home resident breaks a bone include:
Acute compartment syndrome (ACS). This condition occurs when pressure builds up in the muscles and prevents blood from reaching tissue. It can cause permanent muscle and nerve damage.
Malunion and nonunion. Malunion occurs when the fractured bones don't line up correctly. Nonunion occurs when the bones don't grow back fully or at all.
Infections; sepsis; and damage to tendons, muscles, ligaments, nerves, and blood vessels around the bone
Why should nursing homes be held accountable for broken bones?
Many nursing home falls can be prevented by routine inspections of the nursing home facility and the residents. Nursing homes should have policies and procedures in place to prevent falls, minimize the consequences of falls, and obtain immediate medical care for any resident who does fall. Nursing homes should conduct fall and fracture risk assessments for their residents. The resident's medications should be reviewed. The use of physical restraints should be questioned. Bed rails, handrails, and non-slip mats should be used. The staff should assist seniors who need help standing, sitting, and going to the bathroom.
Nursing homes should implement exercise programs and other healthcare programs to help seniors with their balance issues so they don't fall in the first place. Nursing homes should also review whether more staff is needed to give each resident the care he/she needs.
How much is a nursing home resident's injury claim worth?
Residents of nursing homes should enjoy every part of their life while living in a nursing home. When nursing home neglect causes broken bones, we seek compensation for the resident's:
Medical bills
Physical pain and emotional suffering
Loss of life's pleasure
Inability to use any body part
If the broken bone is due to abuse or neglect, we may seek punitive damages to punish the nursing home and help protect other nursing home residents.
Our nursing home lawyers also file wrongful death claims when a loved one dies due to broken bone injuries.
Do you have a nursing home abuse lawyer near me?
Garcia & Artigliere represents nursing home residents who have sustained all manner of injuries, including broken bones. We'll answer all your questions and guide you through the claims process.
Talk to our nursing home lawyers today If your loved one suffered a fracture
Nursing homes should anticipate that seniors have a high risk of falling. There are many preventive measures that nursing homes can and should take. At Garcia & Artigliere, our nursing home broken bone attorneys have more than 150 years of combined experience fighting for nursing home residents. We've helped many residents obtain strong recoveries. Call us or contact us now to schedule a free consultation. We have offices in California, Louisiana, and Arizona today. We serve clients throughout the country. We do not get paid – unless your claim is successful.
Se Habla Español.
Additional services for victims of nursing home abuse