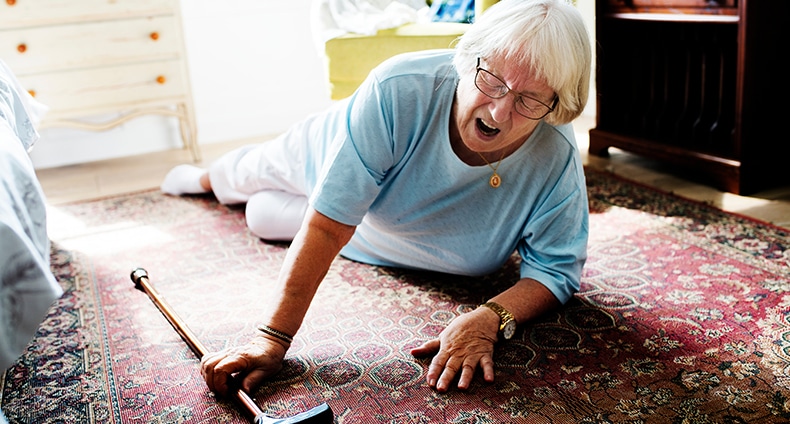 NO RECOVERY NO FEE

Free Case Review
New Orleans Nursing Home Abuse Lawyers Handling Fall Claims
Strong representation when Louisiana nursing homes fail to prevent seniors from falling
Nursing homes in New Orleans know that most of their residents have or will soon develop problems walking. As we age, walking becomes more difficult due to heart problems, loss of muscle mass, osteoporosis, foot problems, and difficulty seeing. Medications can make residents too tired or too dizzy to concentrate when they walk. Many residents of Louisiana homes use wheelchairs, walkers, and canes. Every New Orleans nursing home must take preventive steps to reduce the risk of falls and the impact of falls. Prompt medical care for anyone who does fall is essential.
At Garcia & Artigliere, our New Orleans nursing home neglect lawyers are respected in Louisiana and nationwide for our advocacy for nursing home residents who are injured. We've been fighting for the elderly for more than 150 years. During those years, we've obtained more than $3 billion in recoveries nationwide for our clients, and $100 million for fall victims. In one illustrative case, our lawyers obtained $5 million for a resident of a nursing home who fell numerous times. The award was made by the New Orleans Superior Court.  In a Kentucky case, Garcia & Artigliere attorneys Stephen M. Garcia and Matthew Coman acquired a $3,094,000 verdict for another senior who suffered multiple falls and injuries due to neglect.
NO RECOVERY NO FEE

Free Case Review
How common are nursing home falls?
The National Safety Council states that falls are the number one cause of death among seniors.
The US Centers for Disease Control and Prevention (CDC) states that there were 36 million falls (out of a population of 52 million seniors) in 2018, resulting in eight million injuries nationwide. The CDC estimates that the nation's projected 73 million seniors will fall 52 million times in 2030, resulting in 12 million injuries.
What causes a nursing resident in New Orleans to fall?
Falls are a known risk for nursing home residents. Some of the many reasons seniors fall, according to the National Institute on Aging are:
Diseases such as heart disease, osteoporosis, nerve disorders, blood circulation disorders, and thyroid disorders – all of which can make walking and balance difficult
Poor vision, hearing, and reflexes
Incontinence or other bladder and bowel problems, which can increase the need to run/rush to the bathroom
Cognitive impairments such as dementia and Alzheimer's
Loss of muscle mass (called sarcopenia)
Decreased blood pressure (called postural hypotension), which may occur when a resident gets up after sitting or lying down
Broken bones and other existing mobility problems
Confusion and dizziness due to the medications the resident is taking
Nursing homes in New Orleans should take steps to identify and monitor all of the above disorders. The nursing homes should also protect residents from falls by eliminating or reducing the following risks:
Beds that are too high off the ground
Debris and other objects on the floors
Slippery floors
Lighting that is too dark
Cluttered rooms
Carpets that are torn
Tiles that are broken
Accent rugs
A lack of sturdy handrails
Staircases that are difficult to climb
Bathroom floors and bathtubs that don't have traction
Nursing homes in New Orleans should also design their premises to reduce the risk of falls.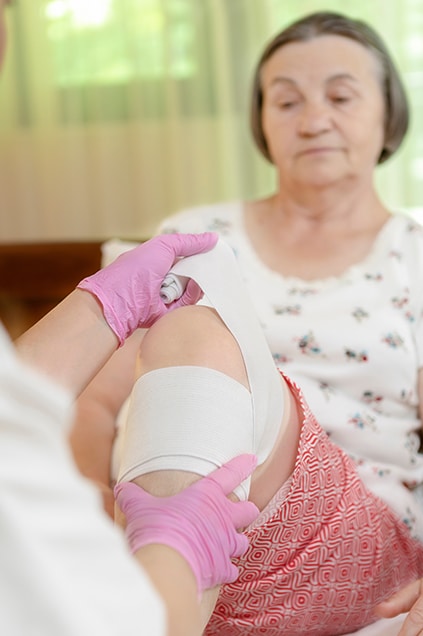 What types of injuries do fall victims suffer?
Falls in nursing homes are especially concerning because seniors take a long time to heal – and time is the one thing that seniors don't have. The most common type of fall injury for seniors according to the CDC is a hip fracture. Yearly, 300,000 seniors are hospitalized for hip fractures. Females are three times as likely as men to suffer a hip fracture, in part due to osteoporosis.
Falls also cause:
Broken bones - fractures of the legs, shoulders, arms, and other body parts
Spinal cord damage including paralysis
Dislocations
Traumatic brain injuries, concussions, and other types of head trauma
Chronic pain
Dental injuries
Internal injuries including internal bleeding
Some falls may be deadly.
Often, the physical pain of a fall injury is accompanied by depression, anxiety, and other forms of emotional suffering.
What steps should nursing homes in New Orleans take to prevent falls?
Most falls in New Orleans nursing homes are preventable. Most complications can be avoided with prompt treatment. At Garcia & Artigliere, our New Orleans nursing home fall injury lawyers understand what your nursing home should have done and what they failed to do before the fall occurred.
Common fall prevention strategies include:
Examining the nursing home each day for any conditions that might cause a resident to fall, and removing or repairing those conditions
Working with repair and maintenance staff and companies
Using grab bars
Using bedside commodes
Helping residents with mobility problems, such as ensuring wheelchairs and walkers are in working order and the residents know how to use them
Helping the residents stay physically and emotionally active
Understanding the unique physical, emotional, cognitive, and medical needs of each resident
Designing the facility so residents can easily get to bathrooms and other parts of the premises
Using nightlights
Helping the residents obtain shoes with good traction
Understanding the side effects of medications
New Orleans nursing should be ready to arrange for immediate medical transport to a nearby hospital when a fall does occur.
What damages can someone who falls in a Louisiana nursing home claim?
At Garcia and Artigliere, our New Orleans nursing home fall lawyers have been fighting for the elderly since 1993. We've helped thousands of clients nationwide receive strong settlements and verdicts – many for hundreds of thousands and millions of dollars.
We work with your doctors and our network of physicians who can verify what injuries the resident has, the medical care they'll need, and every way their fall injuries are making their lives miserable.
We demand compensation for all of the resident's current and future:
Medical costs, including emergency room care, surgeries, hospitalizations, visits with orthopedists and other doctors, physical therapy, vocational therapy, psychological counseling, medications, and assistive devices.
The resident's daily and chronic physical pain
The resident's emotional suffering
The loss of the enjoyment of life
Any loss of bodily function
Any permanent or chronic injuries
Any financial or property damage
Our New Orleans nursing home fall injury lawyers also file wrongful death claims on behalf of families when a fall results in death. Damages in wrongful death claims include:
Funeral and burial expenses
The loss of financial support the resident would have provided
The loss of personal support, guidance, and companionship, the resident would have provided
Do you have a nursing home fall attorney near me?
Garcia & Artigliere represents nursing home residents in New Orleans who fall due to nursing home neglect. We'll answer all your questions, explain how the claims process works, and fight for all the compensation you deserve.
Talk with the Louisiana nursing home fall injury attorneys of Garcia & Artigliere now
Nursing homes in Louisiana must have written fall prevention procedures. There should be dedicated staff members who regularly work to prevent falls, respond to complaints of dangers, and help residents who do fall. The nursing homes, administrators, managers, and staff may all be liable if a resident falls.
At Garcia & Artigliere, our New Orleans nursing home fall injury lawyers work skillfully and aggressively to show the nursing home's neglect injured your loved one. Call us or contact our offices today to schedule a free case evaluation. We maintain additional offices in Long Beach, Los Angeles, New Orleans and Phoenix, and represent seniors across the United States. We only receive compensation if your case settles or if there is a verdict in your favor.
Se Habla Español.
Additional services for victims of nursing home abuse in New Orleans