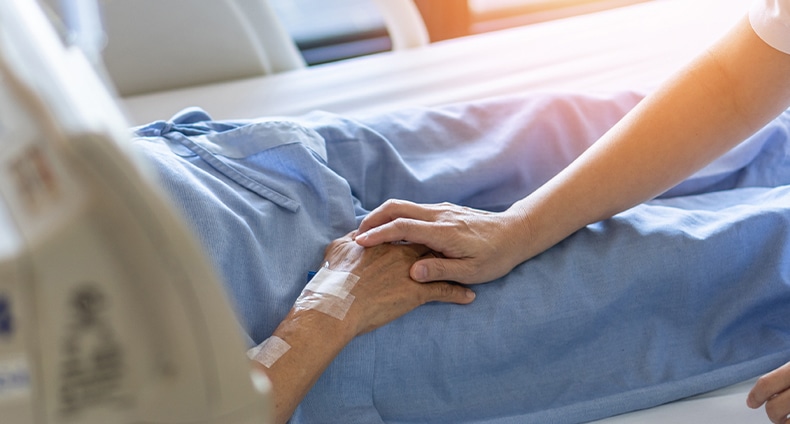 NO RECOVERY NO FEE

Free Case Review
Los Angeles Nursing Home Abuse Attorneys Handling Bedsore Claims
30 years of representation fighting for the elderly who suffer from pressure sores in California
Bedsores, also called pressure sores, occur when residents cannot move easily while they are lying in a bed or sitting in a wheelchair or a comfortable chair. Nursing homes in Los Angeles know why bedsores happen and what steps to take to prevent them.
At Garcia & Artigliere, our Los Angeles nursing home abuse and neglect attorneys have been strong advocates for the elderly since 1993. We are skilled at explaining how a senior's bedsores occurred, what steps the nursing home should have taken to prevent the bedsores, and what treatments should have been provided. Bedsores are quite painful. Infections are a possible complication. In some cases, bedsores can cause a senior to die.
Elder abuse and neglect lawyer Stephen M. Garcia has obtained numerous seven-figure verdicts for elder and dependent adults who suffered from pressure sores including a long-term settlement for $2.4 million for a senior in a Fresno County nursing home and a $2.2 million settlement for a senior in Kentucky who suffered a leg amputation of his leg, pressure sores, and gangrene as a result of elder abuse by a Kentucky nursing home.
NO RECOVERY NO FEE

Free Case Review
What are bedsores?
The Mayo Clinic states that bedsores happen when the flow of blood to the skin is reduced due to pressure against the skin. The following factors contribute to bedsores:
Pressure. The pressure against the skin limits blood flow, which prevents the skin and tissues from getting the oxygen and other nutrients they need.  Pressure damage in residents of Los Angeles nursing home residents usually happens where the bones don't have enough fat or muscle – the spine, elbows, hips, heels, shoulder blades, and the tailbone. Pressure sores may also occur on the back of the legs or arms, the sides or back of the head, and behind the knees.
Friction.  The skin may be more likely to develop into bedsores where the skin rubs against clothing or bedding.
Shear. "Shear occurs when two surfaces move in the opposite direction. For example, when a bed is elevated at the head, you can slide down in bed. As the tailbone moves down, the skin over the bone might stay in place — essentially pulling in the opposite direction."
Why are seniors in Los Angeles nursing homes at risk of bedsores?
The lack of mobility of many nursing home residents is a prime reason why residents may develop bedsores. Many residents have physical difficulties walking. Some residents may not walk due to the medications they take. Residents with cognitive impairments may not understand that they need to move. Many residents can stay in the spot for hours and hours unless a member of the nursing home helps them move.
Other factors that contribute to bedsores among home residents are that seniors generally have dry, thin skin that is not very elastic, diseases, bowel and bladder difficulties, neurological disorders, malnutrition and dehydration, and emotional difficulties
Johns Hopkins Medicine states that 10 percent of nursing home residents have suffered bedsores.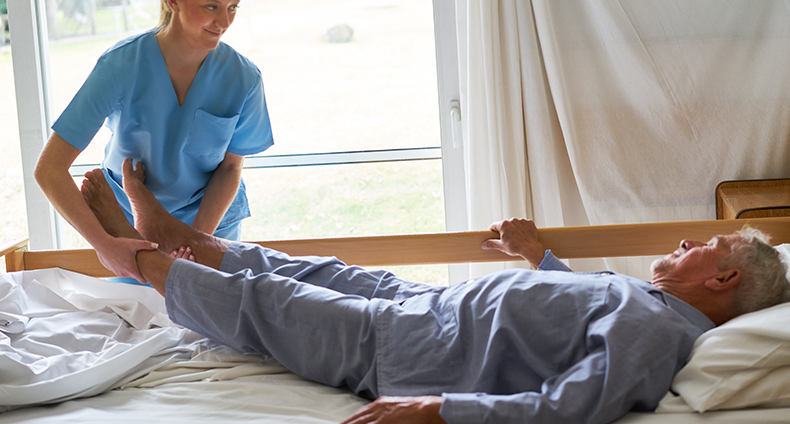 What are common symptoms of bedsores?
Common bedsore symptoms that nursing home staff and family members should look for include swelling, unusual changes in skin texture or color, warm skin, tenderness, and pus-like draining.
What complications can develop from bedsores in Los Angeles nursing homes?
According to the Mayo Clinic, bedsore complications include:
Cellulitis. This disorder is an infection of the skin and soft tissue that may cause swelling, warmth, and inflammation. Seniors may not even suspect they have cellulitis if they have nerve damage.
Joint and bone infections. Left untreated, infections can develop into septic arthritis, which damages tissue and cartilage, and osteomyelitis, which can reduce the ability of the joints and limbs to function.
Cancer. If bedsores don't heal, they can develop into squamous cell carcinoma.
Sepsis. In unique cases, skin ulcers can develop into sepsis which can damage healthy organs and tissues, and cause septic shock. Sepsis can be deadly.
What are the stages of bedsores?
The Cleveland Clinic defines the stages of bedsores as follows:
Stage 1. The skin turns red or purple but the wound is not open.
Stage 2. "A shallow wound with a red/pinkish base develops." Some loss of skin, abrasions, and blisters may occur.
Stage 3. The bedsore wound is noticeable. The wound may penetrate into the fatty skin layer of the senior.
Stage 4: In this stage, the bedsore wound penetrates all skin layers exposing bones, tendons, and muscles.
Bedsores require professional medical care.
Are there treatments for bedsores?
The treatments for bedsores include:
Reducing the pressure on the skin
Cleaning and dressing the wound
Managing the senior's pain
Preventing the development of infections
A nutritious diet
Surgery
Many Los Angeles medical providers may be involved in the treatment of bedsores, including primary care physicians, wound care specialists, occupational and physical therapists, dermatologists, neurosurgeons, vascular surgeons, orthopedists, and plastic surgeons.
How much is a nursing home bedsore claim worth in California?
Bedsores are preventable. Nursing homes in Los Angeles that allow bedsores to develop should be held responsible for any pressure ulcers and complications that develop due to nursing home neglect.
At Garcia & Artigliere, our elder care and abuse lawyers have obtained more than $3 billion for our clients.
When bedsores occur due to nursing home neglect we see compensation for the resident's:
Medical expenses
Pain and suffering
The expense to move the resident to another nursing home if necessary
Other damages depending on California law
We work with physicians who are skilled at diagnosing bedsores and explaining all the daily hurts, loss of function, and loss of quality of life that bedsores cause.
Do you have a bedsores attorney near me?
Garcia & Artigliere represents Los Angeles nursing home residents who develop bedsores in Los Angeles and across the country. Our lawyers have helped thousands of seniors obtain strong recoveries.
Call Garcia & Artigliere in California today when a nursing resident is experiencing any type of pressure ulcer
Bedsores are a known danger for nursing home residents. Nursing homes in Los Angeles should have specific policies and procedures in place so that every resident receives the preventive care that is necessary. Simple routine repositioning of the residents can prevent the extreme pain and suffering that bedsores cause. Nursing homes should also be prepared to contact physicians who can immediately diagnose and treat bedsores.
At Garcia & Artigliere, our Los Angeles nursing home bedsore lawyers have helped numerous seniors hold nursing homes accountable for abuse and neglect. To schedule a free case evaluation, call us or contact us now. We maintain additional offices in Long Beach, Louisville, New Orleans and Phoenix, and represent seniors across the United States. We represent the elderly nationwide. There are no upfront costs. We only receive compensation if you do.
Se Habla Español.
Additional services for victims of nursing home abuse in Los Angeles