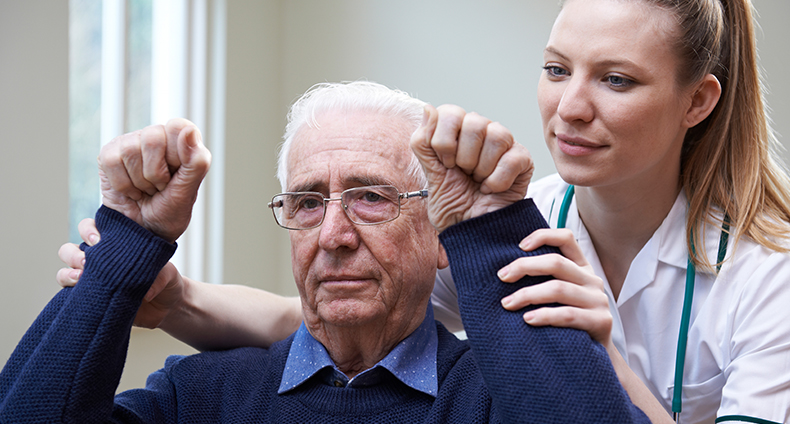 NO RECOVERY NO FEE

Free Case Review
Phoenix Lawyers When Treatment for Strokes Is Delayed
Experienced advocacy in Arizona when critical stroke treatments are delayed
If stroke care is delayed, a victim may suffer mobility problems including paralysis, communication and speech difficulties, loss of function, and many other complications. These complications can require long-term and even around-the-clock medical care.
Delays of minutes can be critical when a person shows signs of having a stroke. Critical treatments such as tissue plasminogen activator (tPA) which helps dissolve and reduce blood clots must be given within the first few hours of stroke symptoms. At Garcia & Artigliere, our Arizona delayed stroke treatment lawyers work with neurologists, heart doctors, and other physicians to show why a stroke happened, that treatment was delayed or not competent, and the full consequences of the delay. Contact us today to get started.
NO RECOVERY NO FEE

Free Case Review
What is a stroke?
The two main causes of strokes are a blocked artery (leading to ischemic stroke) and blood vessels that leak or burst (leading to hemorrhagic stroke). A related type of stroke, called a transient ischemic attack (TIA) occurs when there is only a temporary disruption of blood flow to the brain.
Ischemic strokes. Most strokes are ischemic strokes. This type of stroke occurs when the flow of blood to the brain is stopped or reduced because the brain's blood vessels are blocked or narrowed. The blockage/narrowing is usually due to fatty deposits, blood clots, or other debris.
Hemorrhagic strokes. These strokes happen when various conditions such as overtreatment with blood thinners (anticoagulants), uncontrolled blood pressure, aneurysms, protein deposits in the walls of the blood vessels, and ischemic strokes cause a blood vessel in the brain to leak or rupture.
Transient ischemic attack (TIA). This type of ministroke has temporary symptoms that are similar to a full stroke.
The US Centers for Disease Control and Prevention (CDC) reports that 795,000 people die from strokes each year. About 25 percent of those victims had a prior stroke.
What factors indicate someone is having a stroke?
The signs and symptoms of stroke include:
Difficulty understanding what others are saying, difficulty speaking, confusion, and slurred words
Numbness or paralysis of the face, arm, or leg
Vision difficulties such as double vision or blurred or blackened vision in one or both eyes
Difficulty walking due to dizziness, loss of coordination, and loss of balance
Stroke victims may also have a sudden, severe headache, combined with vomiting, altered consciousness, or dizziness.
Some of the risk factors for a stroke include being overweight, 55 or older, physical inactivity, high blood pressure, diabetes, smoking, heart disease or disorders, a family history of strokes, prior heart attacks or TIAs, and being a male.
Complications from strokes
Stroke complications include paralysis, lack of muscle movement, communication difficulties, memory loss, problems with swallowing, depression, and other emotional problems, pain, loss of feeling in an arm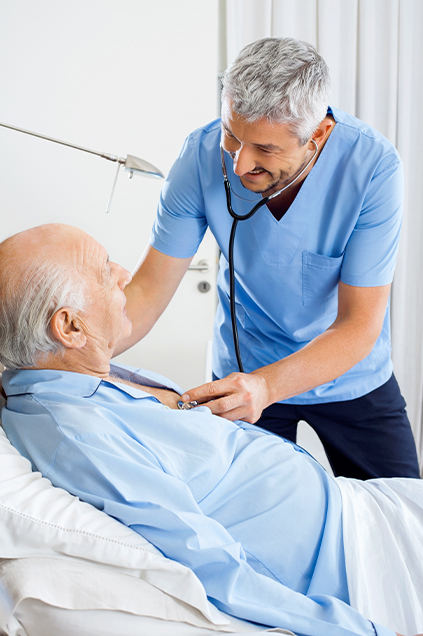 What is tPA?
The treatments vary depending on the type of stroke. The most common treatment for ischemic stroke is an IV injection of recombinant tissue plasminogen activator (tPA) which is usually given through a vein in the arm within the first 3 hours. This treatment is used to restore blood flow to the brain. The medication helps to break up/dissolve blood clots.
tPA was the first drug approved by the Food & Drug Administration (FDA) for treatment of ischemic strokes, and it can literally alter the course of a person's life. Garcia & Artigliere represent people who:
Were denied tPA
Were given tPA too late for it to be effective
Were diagnosed with stroke too late to be given tPA
Were subjected to other courses of treatment that have not proven as effective as tPA
What does stroke treatment negligence look like?
At Garcia & Artigliere, our Phoenix delayed stroke treatment lawyers understand what safety protocols and procedures private home-health caretakers, nursing homes, physicians, and hospitals should use to analyze stroke symptoms, conduct diagnostic tests, and provide necessary treatments.
Some of the reasons for delays in treatment and improper medical care include:
Not training the staff to recognize stroke symptoms
Not having enough medical staff
Failing to have doctors who can assess stroke symptoms on call
Not recognizing stroke symptoms
Failing to arrange for ambulances and other transportation that can provide life-saving treatments
Failing to order the correct diagnostic tests
Improper triage
Ignoring stroke symptom complaints
Failing to provide necessary treatments
Surgical errors
Failing to monitor Phoenix patients after the treatments are provided
How do you fight for delayed stroke treatment victims in Arizona?
At Garcia & Artigliere, our record of success includes a $2,450,000 settlement for a client who suffered injuries due to the misdiagnosis of his stroke by a hospital emergency department and its staff. We know how severe the effects of stroke negligence can be. Our Phoenix attorneys can help you file a claim or lawsuit against:
Hospitals
Nursing homes
Private caretakers such as home health caretakers
Sadly, the victims of delayed stroke treatments often live with severe disabilities that require long-term care with heart doctors, neurologists, physical therapists, occupational therapists, rehabilitation nurses, nutritionists, and psychologists. Tragically, many folks who fail to receive timely treatments for strokes will die. We can help you with a wrongful death lawsuit if this is the case.
Do you have a delayed stroke treatment attorney near me?
Garcia & Artigliere maintains an office in Phoenix at 2375 E Camelback Rd. Our delayed stroke treatment lawyers have the experience and resources to help victims and families obtain the full compensation they deserve when delays in stroke care cause injuries and deaths.
Call Garcia & Artigliere in Arizona to assert your rights when stroke care is delayed
Stroke treatment care is improving. Drugs like tPA and other stroke treatments do save lives and reduce the odds of severe disabilities – if the drugs and treatments are timely. At Garcia & Artigliere, our Phoenix delayed treatment of stroke lawyers hold people accountable when they fail to provide proper medical assistance.
To discuss your right to compensation when stroke treatment is delayed, call or contact our offices today to schedule a free, confidential consultation. Garcia & Artigliere represents victims and families across America, and maintains offices in Louisville, New Orleans, Long Beach, and Los Angeles. There are no upfront costs. We will only receive compensation when you do.
Se habla español.